Supporter Spotlight: Earl Edge, 70 years of Saving Souls for Jesus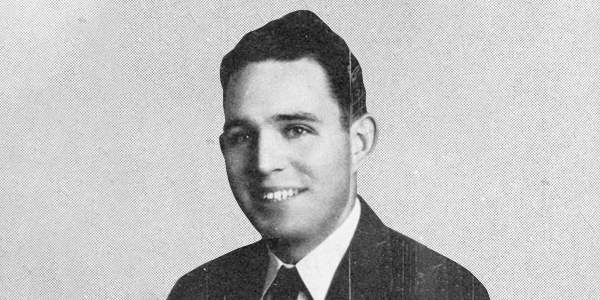 For over 70 years, Earl Edge preached the gospel, served the Lord and taught children. His legacy is imprinted on those whom he served across the entire Southeast including students at Faulkner University who will benefit from his generosity for years to come.
An alumnus of Montgomery Bible College, now Faulkner University, Edge died on July 4, 2010. His last will and testament outlined a large donation to be given to Faulkner following the death of his wife, Lorene.
If you feel led to set aside part of your estate toward continuing our mission of ministry at Faulkner, we are here to help you find an option that works best for you. There are a number of estate planning opportunities available which allow you to reduce your tax exposure, increase the amount you pass on to your heirs and make a gift to charity. Find out more by visiting FaulknerHeritage.org.
Earl made contributions toward God's kingdom and Faulkner through giving and by dedicating his life to preaching and bringing souls to Christ.
Earl was born in Searcy, Alabama on April 30, 1924. In 1940, after hearing the gospel preached for the first time, he obeyed the command and was baptized the next day. He left his home to attend Dasher Bible School, now known as Georgia Christian School in Valdosta, Georgia.
He milked cows, cleaned the latrines and did any job needed at the school to earn his tuition. At the age of 16, he preached his first sermon in Live Oak, Florida and that was the start of his life as a preacher. His last sermon would be three months before his death.
After graduating high school he attended Montgomery Bible College (Faulkner). In an effort to help raise funds for the struggling school in April 1946 he found himself in the small Tennessee town of Smithville where he managed to raise $250, a large sum at that time. Little did he know, that was where would meet the love of his life of 64 years, Lorene Duncan.
In May 1946, Lorene graduated from high school and went to Montgomery to live with her sister. Earl graduated from college and he and Lorene started dating. After a two-week courtship, they married on June 8, 1946. For a short time, Lorene worked in the college office and Earl began to look for a congregation to start preaching the gospel. From Montgomery, they moved to Robertsdale, Alabama to begin the first of many full-time preaching assignments together.
Earl and Lorene's first child Timothy was born in April of 1949 in Mobile. From Alabama they moved to St. Augustine, Florida where Earl preached and Lorene worked at the Ponce De Leon Hotel. Many heard the gospel, many souls were saved, congregations were started and God was glorified.
In 1955, they moved to Talco, Texas to work with the church there and that's when their second child Tanna was born. Seeing a need to be close to Lorene's parents, they moved to her home in Smithville. For the next three years Earl preached for several congregations in the area.
In Oct. 1957, their third child Tammy was born. One year later, they moved to White Bluff, Tennessee, a small town with one traffic light, one restaurant and one grocery store. However, its small size did not stop them from having more than 500 people attend Vacation Bible School every summer.
In 1960, it was on to Memphis, Tennessee where they worked with the McKellar Avenue Church full time and in 1966 Earl received a degree in education from Memphis State College In 1966 and began teaching for Memphis City Schools while continuing his education earning a Master's degree. He graduated with honors in 1971 and began working on a doctorate.
During the next 20 years, Earl taught and preached every Sunday at several locations.
In 1986 after 20 years with Memphis City School, Earl retired.
From 1987 to 1989, Earl and Lorene worked with the Lake Forest Church in Walls, Mississippi and in 1989 they moved to Jacksonville, Florida to work with the Edgewood Avenue Church.
In an effort to move back closer to family in the Memphis area, Earl and Lorene moved to Macon, Tennessee and in 1993 they worked with the church there for six years.
In 1998 they intended to retire and moved to Southaven, Mississippi, but once again, in 2000 they were called to continue the Lord's work in Tocapola, Mississippi. He preached the gospel there every first Sunday until his health began to fail.
After 70 years of preaching the gospel, Earl preached his last sermon in April 2010 and on July 4 God's good and faithful servant went to meet the Lord. Lorene passed away 11 years later on September 21, 2021 at the age of 93.
"He always encouraged young men to preach and to teach," said his daughter Tammy Edge Pruett. "He was an ardent visitor of the sick and shut-ins. He was forgiving and kind. He was a wonderful father and husband. But above all, he was a Christian. Always putting God first. He never met a stranger and taught me to be the same. He was my daddy. He has blessed my life. Words cannot express how much I miss him."
If you would like to become a support of Faulkner University, visit FaulknerHeritage.org.