Supporter Spotlight: Robert and Tomi Hudson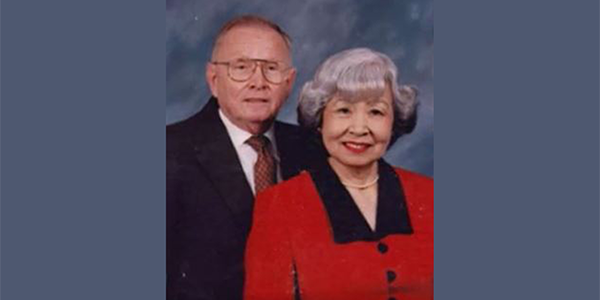 Robert and Tomi Hudson are a couple whose generosity through charitable gift annuities and a retained life estate through living trust helped them make a difference in young lives at Faulkner University and provided them with financial stability during their retirement years.
They lived long lives, worked hard, saw much of the world and served their communities well. They are a humble couple who lived out the rest of their days in peace and friendship just down the road from their beloved church and Faulkner. Robert Hudson died on March 7, 2017 and is survived by his wife of 60 years, two daughters, five grandchildren, and four great grandchildren.
Their home is decorated in beautiful original Japanese art passed down from Tomi's family in Japan. Robert, who grew up on a ranch in Shawnee, Oklahoma, was serving in the Air Force and stationed in Japan during the Korean Conflict when he met and married Tomi Kaneko in 1959 at the U.S. embassy in Tokyo.
After returning to the states, they started a family. He was living in Auburn and working as a veterinarian at Auburn's College of Veterinary Medicine for large animals at the time his daughter enrolled at Faulkner when it was known as Alabama Christian College. Several years later he and his family began attending University Church of Christ where he met then Faulkner president Dr. Billy Hilyer. Robert's knowledge and admiration for Faulkner grew.
"We really got interested in the university through the church by our friends Billy Hilyer and David Short, who was the Vice President for Development at Faulkner at the time," Robert Hudson said. "And we are so thankful that we were tied back into Faulkner."
"We knew we wanted to give to Faulkner, but we had a concern about income," he added. "We had been through years in the past where inflation was hard on us so we became interested in gift annuities. It was the best thing for us."
With the Hudson's retained life estate through a living trust, they have also given their house, one of their largest and most valuable assets to the university with an agreement that they can live there as long as they want.
"After getting to know the Hudsons, they are fine people," Hilyer said. "I know how important it is through the years for them to be so willing to give to the university and at the same time provide a stable income for themselves in their retirement years. They are very kind to do that for the university."